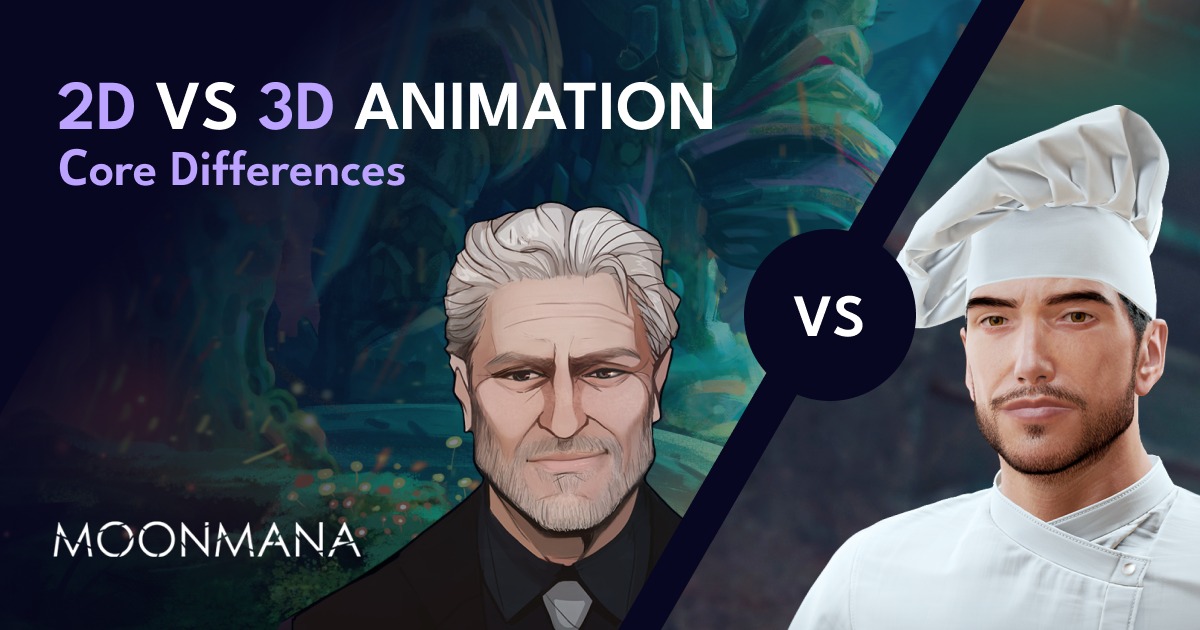 What's the Difference Between 2D and 3D Animation
What is Animation?
Animation occupies an essential place in the video game development industry. Everyone has heard this term but does everyone know precisely what animation is? 
In simple terms, animation means rapidly displaying still images in sequence to create the illusion of movement. Even though the technology sector is constantly advancing, the core concept of animation remains the same. Each image differs slightly from the previous one, so when appearing quickly in succession, they create the effect of movement. In animation, the frames go by at a rate of 24 frames per second, which is close enough to the speed of real-life movement. 
In the classic stop-motion animation, objects are moved in small increments and photographed between each change. But due to the mind-blowing technology advancements, the animation is getting digitized, covering a variety of top-notch techniques.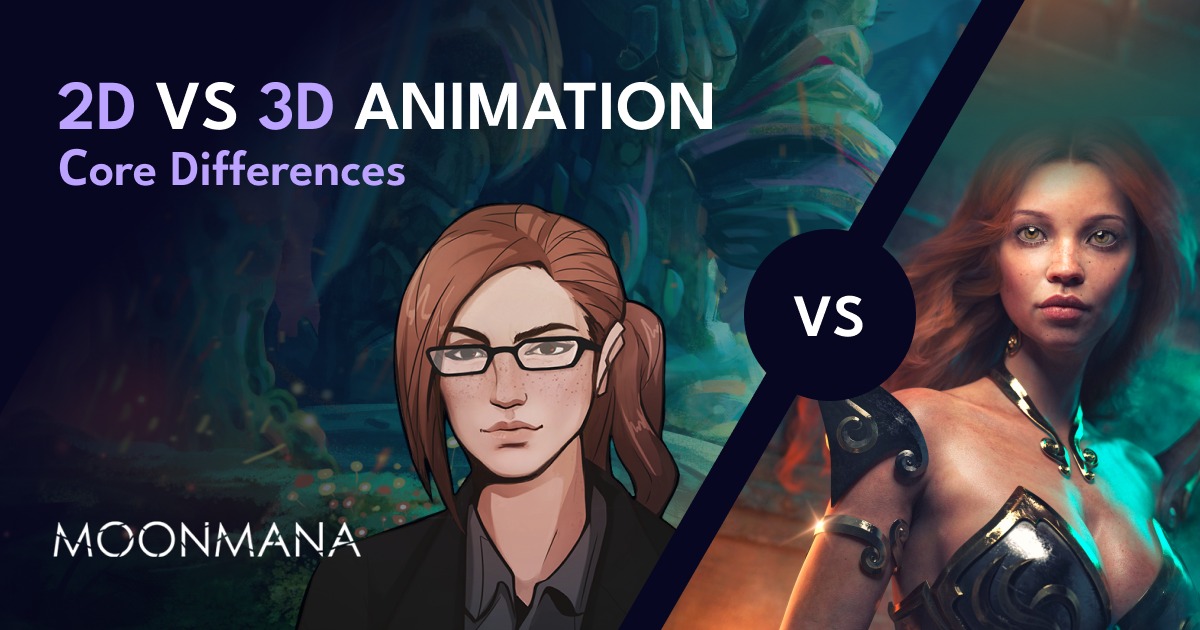 In this article, we will explain the basic difference between 3D and 2D animation and provide you with the essential details about the two game art types.
What is 2D Animation?
2D animation is also called vector-based because it is made with vectors instead of pixels. As you may guess from the name, 2D animation has only two axes of motion. The movements of characters and objects are created in two-dimensional space – a 2D artist only has to deal with length and width. When it comes to 2D animation, the images are flat. 
Advantages of 2D Animation
Those who think that 2D animation is now left in the shadows must be mistaken. It is still popular and widely applied in game development and other industries, due to the numerous benefits 2D animation provides. Here are just some of them:
Relatively low production expenses

Quick production

No need to apply cutting-edge software for production

2D is story focused
Disadvantages of 2D Animation
Everything has both advantages and drawbacks and 2D animation isn't an exception. There are a few disadvantages for you to consider before starting the game development process with 2D animation:
This type of animation is less popular

Less dynamics and visually impressive
2D Animation Software & Resources
There is a long list of 2D animation software and platforms a game animator needs. In case you are just getting ready to break into it, check out the most popular 2D animation software and resources:
Toon Boom Harmony

Adobe After Effects

Spine

Pencil 2D

The Animation Magazine

OpenToonz
There are both open-source and paid resources for 2D animation design so you can find the tool that meets your budget.  
Examples of 2D animation
Over the years, 2D animation hasn't lost its popularity and relevance. 2D is still in demand so the number of uses in a variety of industries keeps growing. To the well-known 2D animations belong the following examples:
Cuphead, a classic run & gun action game

Mark Of The Ninja, a stealth-based platform game

Factorio, a game about building and creating automated factories

Looney Tunes cartoon

Classic Disney (Snow White, The Jungle Book)

TV shows (The Simpsons, South Park, Rick and Morty)
This list can go on and on as 2D animation is actively applied in different fields. Despite being quite old, 2D animation is still popular and in demand.
Here is a sample of our 2D animation for the game:
What is a 3D Animation?
3D animation is considered to be the most common type of animation for games now. Once again, as you may guess from the name, in 3D all objects and characters are three-dimensional. In contrast to 2D animation, in 3D an animator uses pixels and works with length, width, and depth. Instead of a flat drawing, 3D animation produces an object that can actually rotate 360 degrees. In the process of 3D animation production, it is required to pay attention to the following aspects: modeling, rigging, and rendering.
Advantages of 3D Animation
Why does 3D animation remain super trendy? Though the 3D production process is quite complex, this type of animation stays on top because of the significant benefits it provides:
Highly realistic

Allows to re-use 3D models

Ensures superior movement experiences

Extremely popular in different industries
Disadvantages of 3D Animation
There are also a few crucial points for you to consider before deciding on 3D animation production. 3D animation has several disadvantages which may appear critical for your project:
Complex production process

High animation development costs

Longer production time in comparison with 2D animation
3D Animation Software & Resources
3D animation is produced with the help of computer processes and software. It takes specialists to complete a number of steps to provide impressive 3D objects, characters, and environments. There is a wide range of either free or quite expensive resources for 3D animation production so you can choose what suits your requirements best. For you, we've compiled a list of software you will find useful:
Autodesk Maya

The Animator's Resource Kit

Blender

Animation World Network
Example of 3D animation
As has already been mentioned, 3D art offers great solutions for different industries. 3D animation is mostly used for movies, cartoons, and the development of video games with extremely realistic visual experiences. Let us mention the most well-known examples of 3D art among 2022 video games listings:
God of War Ragnarök

Elden Ring

Serious Sam: Siberian Mayhem
And below you can check a video from Moonmana own 3D game
Which Is Harder, 2D or 3D Animation?
The process of 3D animation creation is usually complex and tedious, but the 2D art design is not simple, either. 2D art creation takes a lot of time as it is performed mostly by using traditional drawing methods, unlike 3D which is done using computer software. In fact, neither is harder or easier. It just takes an animator to possess relevant knowledge and skills.
3D animation requires rigging that, in turn, demands a bit more interdisciplinary skillset. A professional artist needs to have strong expertise in working with three dimensions while maintaining realism on all fronts.
As for 2D animators, they also must be aware of a wide range of strategies. With only two dimensions, it is quite challenging to achieve natural-looking motion. That is why a true expert in 2D animation is demanded to have a deep understanding of anatomy and physics. 
Trying to answer who is a winner in 2d vs 3d animation battle, we can say that each type is complicated, has its admirers and is used in different industries.
Which is Better: 3D or 2D Animation?
As art forms, both 3D and 2D are in demand and have their target audience. Still wonder what is the difference between 2D and 3D animation? To say the least, the two animation types vary according to where and how they are implemented, however, both are popular.
Earlier 2D animation was used in cartoons as an advanced solution. Nowadays this type is commonly implemented in game development, social media content creation, infotainment, online advertising, and explainer videos.
3D art is predominantly seen in movies, TV, and video games. 
The growing popularity of 3D, connected with the heightened realism it helps to achieve, does not mean people are no longer enjoying 2D. 3D animation does not damage the future of 2D art. Talking about 3d animation vs 2d animation, it is clear that the two game types can exist in parallel since each one is excellent and special in its way. Even though some people consider 3D superior to 2D due to its numerous benefits, 2D animation boasts many significant advantages like cost-effectiveness, more artistic work, etc. 
Conclusion
Summing up all the information provided above, we can say that both 2D and 3D have their peculiarities, pros and cons, use cases, and so on. The choice of animation type completely depends on your demands, interests, and goals. Take some time to explore the difference between 3D and 2D animation, research, and analyze, so that you will find the best solution for your project. 
Don't know where to start and what to choose? Contact us now and we will consider all your key requirements and offer effective game art solutions.
Moonmana has been providing 3D and 2D animation production in terms of game development services since 2008. Our outsourcing 2D and 3D artists will quickly integrate with your in-house team and help to achieve your goals. 
9 minutes read