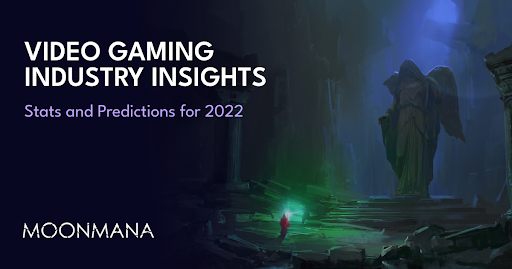 Video Game Development Trends That You Should Know
Video games industry is going big and bigger. How do we see it in 2022 and what's at play for developers? What are the fresh trends in the gaming industry? Read more in this blog article.
The last few years have been motivating the game development field quite actively. Game developers, designers, and artists had to be quite inventive and creative to move it forward. Video games development incorporates PC games and consoles.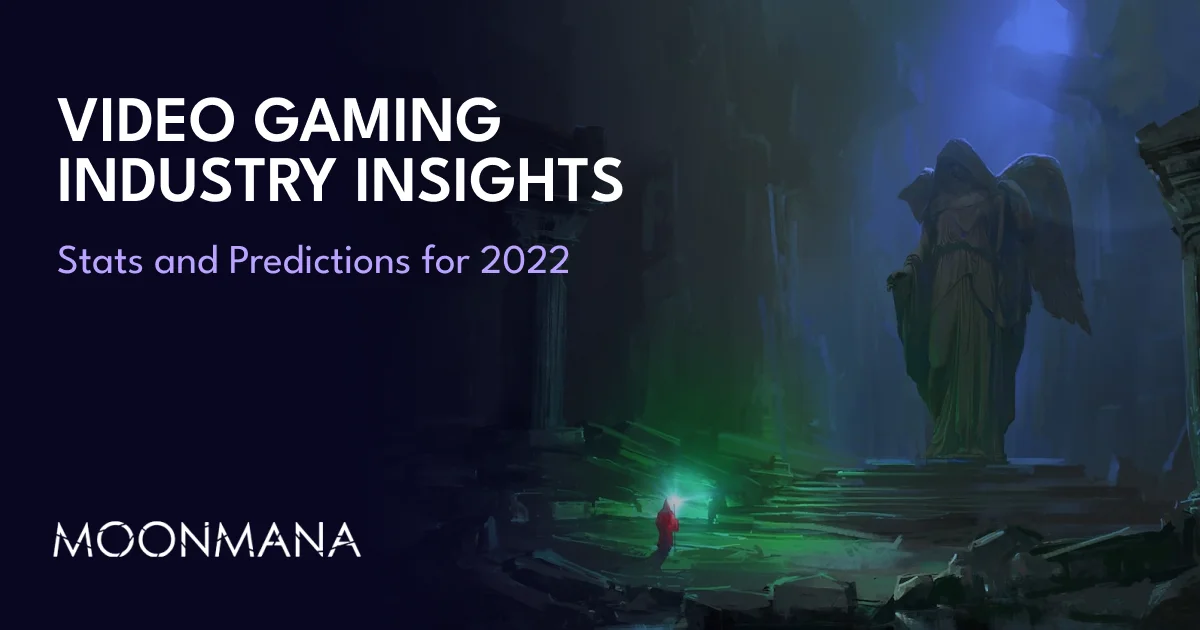 Now let's get closer to the current gaming trends.
What are the Current Trends in the Gaming Trends Industry?
With no exception, each year delivers new insights into the game development industry. According to the freshest statistics by Newzoo, in 2022 the industry continues to grow and become even more profitable worldwide, where the key driver belongs to console games. This all together creates an audience of around 3 billion users of video games globally.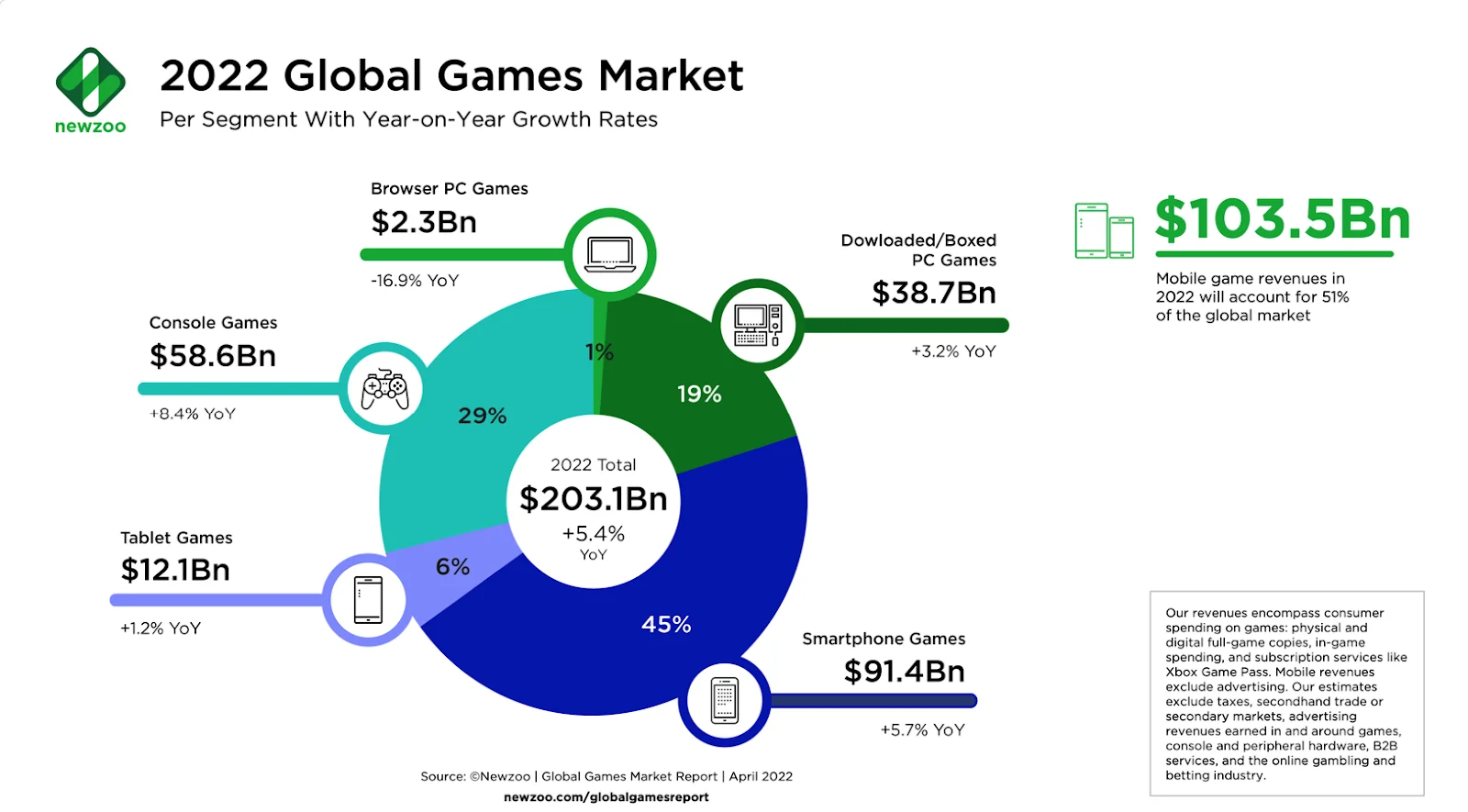 NewZoo Insights on Game Development Industry Trends, 2022
Cross-platform Video Game Development Trends
Game developers have to be more flexible and agile than ever before to develop games and provide Games as a Service (GaaS) for pc and varieties of consoles. Cross-platform video game development (in other words multi-platform) is an inevitable advantage that any game development company should leverage nowadays. It is a real opportunity to embrace any industry challenge and become agile enough to create video games that can be played across different platforms. 
As we already mentioned, console games are riding the wave of being the most growing industry field in 2022, along with PC games. This makes cross-platform game development even more in demand. One of the keys to really being into it is to provide game development services by choosing the right game development engine, and be ready to port games to other platforms. 
At Moonmana, we specialize in Unity, Unreal Engine and proprietary engines game development and we can breathe life into fascinating projects of any difficulty.
NFT Games and Blockchain Keep Being Trendy
Among the most topical video game industry trends, NFT or play-to-earn approach is the next evolution of game industry secured by blockchain and providing in-game transactions. Players get opportunities to earn while playing whilst game developers get the opportunity to cover the niche. 
NFT and blockchain-based games are fuelling the market and opens an enormous potential for industry developers, gaining more popularity among players.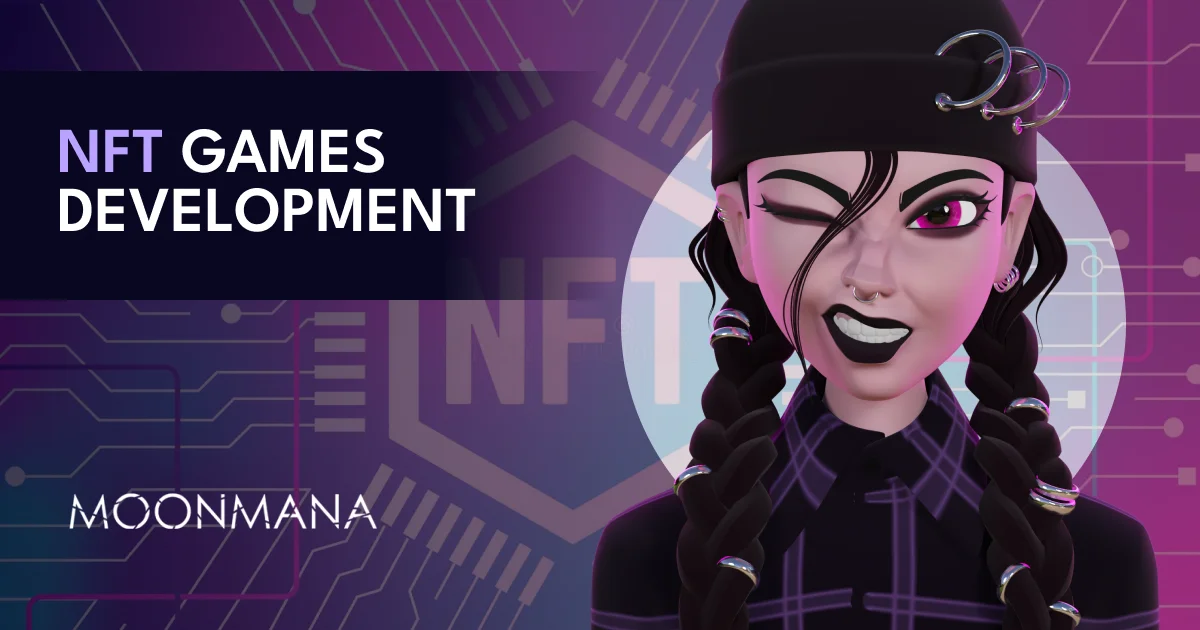 Altogether this means NFT games development creates enormous business opportunities, leveling it above other trends. 
Contact us to find out more about our extensive NFT games development expertise and what we can do for you
AR and VR Games
Gradually we came to analyze Artificial and Virtual Reality applied in the game development industry. 
AR and VR games are incredibly realistic, which makes them popular among gamers. At the same time, it boosts technical development for the industry itself. For example, Sony announced a new PlayStation VR headset, which will level up gamers' experiences to a new level. 
However, there are some crucial challenges that hinder this trend. The main challenge for game developers will be to create and integrate various AR and VR solutions into games. This relates mainly to the high costs for development and investment, some legal risks, as well as lack of technologies to adopt and embrace this trend.
AAA video game development trends
AAA games 2022 are considered to be the most eye-catching, comprehensive and top-notch video games played on PC and consoles, as Games radar says. Forbes also argues that some of AAAs are integrating NFTs therein. This enormously fuels the industry of video game development. Let's see what's inside of it.
What is in store for MMORPG in 2022?
Video games in the MMO genre, or Massive multiplayer online games, as well as role games- MMORPG, are proving themselves as one of the biggest gaming industry trends of 2022. Mordor Intelligence in its report and forecast, states that the MMORPG games 2022 market will be growing by almost 10% by 2026. 
Thus, MMO games are quite a competitive genre, steadily keeping up with the trend. To make it even more profitable, game developers increase their monetization by in-app purchases and ads.
Hypercasual games
In terms of video game development, hypercasual games are quite a success story in the industry. They provide deeper gameplay content and uncomplicated storyline for gamers. The nature and essence of this genre make it always popular for the end-users. In addition, it is also a great help for game developers here;  hyper-casual games are relatively easy to develop and monetize subsequently. It is no wonder that hypercasual games are among the current gaming trends.
Games in the Movies Industry
2022, just as well as last year, is steadily keeping the pace of famous games having their continuation in the movies. The most prominent examples are Warcraft, Minecraft, TBA, Tomb Raider 2, Mario, and even Pikachu. End-users are not only playing, but they also enjoy watching. Let's see what other trends in gaming industry will bring us from this direction.
How Game Developers Can Embrace the Challenges?
At Moonmana, a game development company with more than 14 years of practical experience, we suggest the following ways to go through any challenges that the video game industry might bring:
Find a reliable game developer company with all the necessary skills, experienced team members and proven track record

Provide the project brief, game document, and required stages of development.

Check out the company's game development portfolio, cases, expertise and testimonials 

Meet offline or online with the game development company leaderboard in order to discuss the responsibilities of parties, milestones. 

Enjoy the smooth running of your project and participate in weekly status checks to stay in touch and be involved in the process.
Do you already have a video game project idea and are looking for experienced game developers for hire? Contact us to discuss how Moonmana game development professionals can help. 
7 minutes read